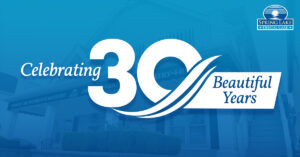 Dr. Peter Ciampi and our entire dental team are proud to announce that October 15th of 2020 marks the 30th year that Spring Lake Dental Care has been providing services to our community. Dr. Ciampi opened the doors of our practice way back in 1990, and we have been growing ever since. This special anniversary would not be possible without the loyalty, support, and trust embodied by so many individuals and families that have chosen us as their dental treatment provider for so many years. Our team works hard to make each and every patient feel safe and comfortable during their procedure, and we strive to continuously update our dental care options so that everyone receives the absolute best treatment. For 30 years, we have embraced a philosophy of care that focuses on treating all of our patients like they are members of our own family, and we are grateful for being able to serve you for three decades and counting! 
Dr. Ciampi says it best: "I have much gratitude for the fine, hard-working team members and excellent patients that have been part of my practice over the past 30 years. I look forward to continuing the relationships and connections to be made with my current and future patients!" 
We thank you all so very, very much for entrusting us with your dental care needs!