At Spring Lake Dental Care, we offer an exciting new alternative to porcelain crowns — porcelain veneers, including stunning LUMINEERS® BY CERINATE® and DaVinci Veneers™. Porcelain veneers enable our Spring Lake, New Jersey patients to perfect the appearance of their teeth by masking stains, hiding chips, correcting misalignment, and reshaping their smile. Read on to learn more about porcelain veneers and how they can give you the smile of your dreams.
What Are Porcelain Veneers?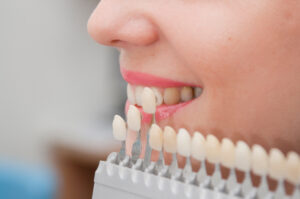 Made of thin, customized porcelain, porcelain veneers are thin shells that slide over the front sides of the teeth to conceal their natural appearance. Unlike dental crowns, which necessitate the removal of most of the tooth body before they can be applied, porcelain veneers only require that the front of the tooth be buffed slightly to accommodate the thickness of the veneer. After your custom veneers are created, they are firmly bonded to your teeth, creating your brilliant new smile.
The results achieved with the placement of porcelain veneers look incredibly natural and are long-lasting with proper care. Because our porcelain veneers are crafted in the DaVinci Dental Labs (the same lab featured on the television hits "Extreme Makeover" and "The Swan") you can trust that your veneers will be made from the finest, most durable ceramic materials available. For further information about porcelain veneers, contact Spring Lake Dental Care in New Jersey today with your questions, or speak with an office coordinator to schedule your consultation.
What Can Porcelain Veneers Do for My Smile?
Porcelain veneers can be used to fix small imperfections or completely transform your smile. At Spring Lake Dental Care, Dr. Ciampi uses porcelain veneers to:
Close gaps between teeth
Seamlessly repair the appearance of chipped and cracked teeth
Whiten and brighten smiles
Straighten crooked or misaligned teeth with "instant orthodontics"
Redesign and reshape smiles with a smile makeover
Dr. Ciampi has extensive experience with porcelain veneers, allowing him to provide his patients with the superior results they expect and deserve. We invite you to view before and after pictures of Dr. Ciampi's satisfied porcelain veneers patients from Spring Lake Dental Care. The path to a beautiful smile like theirs begins with a cosmetic exam with Dr. Ciampi, so contact us today to get started.
LUMINEERS® BY CERINATE®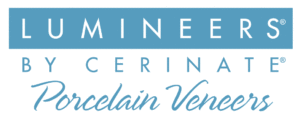 LUMINEERS® are advanced porcelain veneers that we have recently added to our Spring Lake, New Jersey practice. As thin as contact lenses and as translucent as real teeth, LUMINEERS® create a natural looking smile with little or no removal of the tooth body. LUMINEERS® are only made from Cerinate porcelain — a patented type of porcelain crafted in a proprietary process which allows the veneers to resist cracking and leaking.
LUMINEERS® can be placed in as little as two visits and have other marked advantages:
Only rarely does any tooth structure need to be removed to make way for LUMINEERS®. When LUMINEERS® are being placed, you will not have to endure shots or pain, and your teeth will not be sore or sensitive in the hours and days after LUMINEERS® are placed.
You don't need to wear uncomfortable temporary veneers while your LUMINEERS® are being crafted.
LUMINEERS® can be safely removed or replaced at any time.
LUMINEERS® permanently whiten teeth and resist cracking.
When LUMINEERS® are placed by an experienced cosmetic dentist such as Dr. Ciampi, there is no risk of ending up with an unnatural appearance such as thick or oversized teeth.
LUMINEERS® have a five-year warranty and typically provide two decades or more of brilliant smiles.
For more information about LUMINEERS® By CERINATE® porcelain veneers, please contact Spring Lake Dental Care in New Jersey.
Schedule Your EvaluationContact us today to get started!
Call (732) 449-5666