At Spring Lake Dental Care, we offer an exciting alternative for patients who may not need full porcelain crowns to enhance the form and function of their teeth: porcelain veneers. These popular treatment options can beautifully enhance the appearance of your teeth by masking stains, hiding chips, correcting misalignment, and ultimately reshaping your smile.
Please read on to learn more about porcelain veneers and how they can give you the smile of your dreams. If you have questions, or if you would like to schedule an appointment with one of our experienced cosmetic dentists, please contact us today.
Very skilled Doctors and staff. Up to date modern equipment. I have been their patient for 20 years and I always will be.

David Harper

November 16, 2017

12345
What are Porcelain Veneers?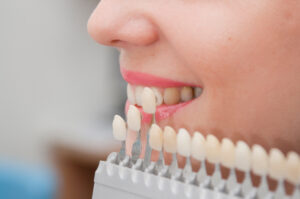 Made of thin, strong ceramic material, porcelain veneers are thin shells that slide over the front sides of the teeth to conceal their natural appearance. Unlike dental crowns, which necessitate the removal of large amounts of original tooth structure before they can be applied, porcelain veneers only require that the front of the tooth be buffed slightly to accommodate the thickness of the veneer. After your custom veneers are created, they are firmly bonded to your teeth, creating your brilliant new smile.
The results achieved with the placement of porcelain veneers often look incredibly natural and are long-lasting with the proper care. Because our porcelain veneers are crafted in the DaVinci™ Dental Labs (the same lab featured on the television hits "Extreme Makeover" and "The Swan") you can trust that your veneers will be made from the finest, most durable ceramic materials available.
What Can Porcelain Veneers Do for My Smile?
Porcelain veneers can be used to fix small imperfections or completely transform your smile. At Spring Lake Dental Care, Dr. Peter Ciampi and his skilled dental team use porcelain veneers to:
Close gaps between teeth
Seamlessly repair the appearance of chipped and cracked teeth
Whiten and brighten smiles
Straighten crooked or misaligned teeth with "instant orthodontics"
Redesign and reshape smiles with a smile makeover
Dr. Ciampi and his team have extensive experience with porcelain veneers, allowing them to provide our patients with the superior results they expect and deserve. We invite you to view before-and-after pictures of our satisfied porcelain veneers patients. The path to a beautiful smile like theirs begins with a cosmetic exam, so contact us today to get started.
Minimal-Prep and No-Prep Porcelain Veneers
Dr. Ciampi and the dentists at Spring Lake Dental Care are able to provide porcelain veneers with little to no removal of the original tooth enamel for many patients. Minimal-prep and no-prep porcelain veneers allow our dental team to utilize very conservative techniques and preserve as much of the natural tooth as possible. This can ultimately make your visit with us more convenient, not to mention more comfortable. By using this conservative approach, injections and drilling of the tooth are often not necessary. Plus, since most – if not all – of the natural tooth is still intact, it will be easier to remove the veneer if you would like to address the problem with a different procedure years later.
As with all of our porcelain veneer procedures, minimal-prep and no-prep veneers will be customized for the most precise and natural fit possible. They will also be color-matched to surrounding teeth for a seamless blend. During your initial consultation, our dentist will examine your teeth and determine if this conservative treatment will be best for your needs.
With good oral hygiene and the proper care, porcelain dental veneers can last for decades!
Schedule Your Evaluation
Contact us today to get started!
Call (732) 449-5666