Education
A native of South Orange, New Jersey, Dr. Peter Ciampi graduated with a bachelor's degree from Franklin & Marshall College before furthering his education at the University of Maryland School of Dentistry. He then continued his dental education by completing a general practice residency at the Naval Hospital in Bethesda, Maryland.
Dr. Ciampi was stationed at the U.S. Naval Academy, as well as the aircraft carrier USS Kitty Hawk, while he served with the United States Navy Dental Corps. He later went on to complete post-graduate training in cosmetic dentistry at the University of California, Los Angeles Center for Esthetic Dentistry.
He has also taken continuing education courses at the Dawson Center for Advanced Dental Studies in St. Petersburg, Florida and the Pankey Institute in Miami, Florida, focusing on advanced occlusion and prosthetic dentistry. His commitment to continuing education has enabled him to stay abreast of the newest developments in dentistry, thus providing the finest care to his patients.
Dr. Ciampi has achieved mastership status, the highest honor in the Academy of General Dentistry, following completion of over 1100 hours of continuing education. Dr. Ciampi has additionally achieved fellowship level in the International Congress of Oral Implantologists.
Top Dentist Designations
Dr. Ciampi has been recognized as a Top Dentist by New Jersey Monthly Magazine 12 times, over more than a decade! He has also been designated as a Monmouth County Top Dentist in Monmouth Health & Life magazine. The recognition in New Jersey Monthly Magazine was based on a survey given to Dr. Ciampi's peers across New Jersey. Dentists who completed the survey were asked whom they would prefer to perform treatment for their own dental needs, and Dr. Ciampi was one of a very select few whose name was chosen for the final list.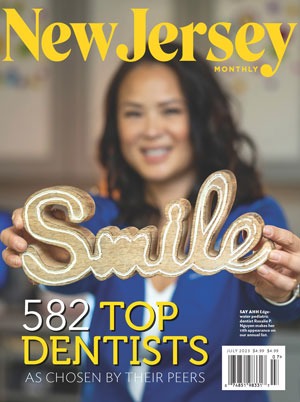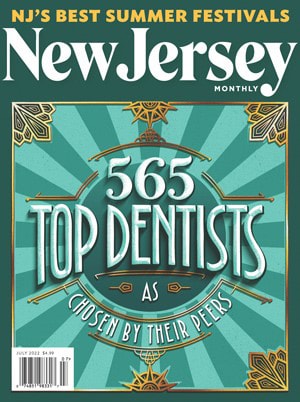 Dr. Ciampi has also been recognized multiple times as an NJ Top Dentist in Healthy Living magazine. Learn more about Dr. Ciampi's honors and awards here.
Other Professional Interests
In addition to practicing at Spring Lake Dental Care, Dr. Peter Ciampi is a forensic dental consultant with the office of the New York City chief medical examiner. He was also a clinical assistant professor at the University of Pennsylvania School of Dental Medicine for 22 years.
Associations and Memberships
Dr. Peter Ciampi was appointed "Peer Review Mediator" by the New Jersey Dental Association. He is also an active member of the prestigious American Academy of Cosmetic Dentistry and the American Dental Association, the Academy of General Dentistry, and the New York Society of Forensic Dentistry.
What is a Cosmetic Dentist?
There are many types of dental fields that focus on specific aspects of dentistry, and it's important to know some of the distinctions so you are able to identify the best dentist for your particular needs. A cosmetic dentist is one who focuses on both functional and aesthetic concerns. While general dentists often provide treatments that can improve the cosmetic appearance of a patient's teeth and gums, cosmetic dentists typically undertake many hours of continuing education and specific training for techniques designed to enhance smile aesthetics. Cosmetic dentists also usually make cosmetic treatments a cornerstone of their practice, and offer popular aesthetic procedures such as dental implants, teeth whitening, and porcelain veneers. Skilled cosmetic dentists are often members of organizations such as the AACD (American Academy of Cosmetic Dentistry), which has strict requirements for membership.
How to Choose the Best Cosmetic Dentist for You
When you are researching the best cosmetic dentist for your needs, there are a few things to look for that may help you narrow down the options:
Credentials and Experience
Most dental websites include a biography of the dentists who are providing services. It's important to read through them and familiarize yourself with the dentist's history and background. His or her number of years in practice, societies and organizations for which they are members, involvement in the community, areas of special focus, and any awards, honors, or recognitions they have earned are some good ways to gain an idea of their experience and skill levels.
Dental Treatment Before-and-After Photos
Does the dentist have a Smile Gallery on the website? Viewing cosmetic dentistry before-and-after photos featuring treatment outcomes by your prospective dentist can be an excellent way of seeing the results they are capable of. Many dentists also showcase specific treatments in these galleries, so if you already have an idea of the procedure you may need, a set of before-and-after photos can help you visualize the potential outcome. If the practice's website does not feature a Smile Gallery, it may be useful to ask to view before-and-after images at the office.
Testimonials and Patient Reviews
Reading about the experiences of other patients at a particular practice can be very helpful in formulating an idea of what you can expect. Practice websites often have entire pages devoted to dental patient testimonials, and there are a variety of third-party review sites that include individual patient reviews of dentists and dental practices. These can be good resources for viewing several different opinions and getting a bigger picture of how well the practice serves its patients.
Questions to Ask Your Cosmetic Dentist
If you are ready to contact a prospective cosmetic dentist, there are some questions to focus on that can provide a wealth of information as to whether or not they are the right fit for your needs. These questions can also come in very handy during the initial consultation, which is a time for you to get to know the dentist and determine if you feel confident and comfortable in his or her care.
How many years have you been practicing cosmetic dentistry?
What kind of training do you have?
Do you pursue continuing education and additional training in a certain dental field or fields?
Do you have extensive experience in a comprehensive variety of treatments, procedures, and techniques?
Do you belong to professional dental organizations? If so, which ones?
Do you customize treatments for the individual patient?
Do you utilize advanced technology?
Do you typically take a conservative approach to dental care that can maintain existing healthy tooth structure when possible?
When considering your options to improve both the health and appearance of your teeth and gums, you can never have too much information. That's why Dr. Ciampi and his dental team believe in open and thorough communication with our patients. Our experienced team of dentists want you to be confident in our care, and we encourage you to read the biographies available on our website and contact us with any questions you may have.
For an appointment with Dr. Peter Ciampi, please contact Spring Lake Dental Care today! We offer many of the most modern advances in cosmetic and restorative dentistry, and we look forward to helping you enhance the health and appearance of your smile with beautiful results!