One of the top reasons many people don't seek dental care that can solve a range of problems with teeth and gums is summed up in one simple word: fear. Dental anxiety that keeps you from going to the dentist can ultimately have a severe impact on your oral health, and turn easily treatable problems into conditions that are much worse. Dr. Peter Ciampi holds an Enteral Sedation Permit from the state of New Jersey, and Spring Lake Dental Care offers oral conscious sedation for our Monmouth County patients who suffer from dental anxiety. Conscious sedation can not only alleviate your fear of dental procedures, but it can also make the time you spend in the dentist's chair seem like no time at all!
Conscious Sedation Dentistry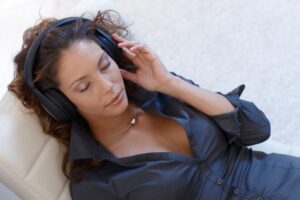 Conscious sedation dentistry is a means of putting you in an extremely relaxed state for your dental treatment, without the need for IV sedation. You will be given a small pill to take about an hour before your appointment. Once you arrive at our office (with help from a friend or family member) you will already feel very drowsy or perhaps be required to take another pill in office. During your procedure, Dr. Ciampi and his dental assistants will monitor your vital signs throughout your visit. Conscious sedation does not induce full sleep, but rather an intensely relaxed state that mimics sleep. You will still be able to communicate with our dentist during the procedure. Once your treatment is over, you will be awakened, and will likely not remember the procedure even taking place.
Candidates for Conscious Sedation Dentistry
Candidates for oral conscious sedation dentistry include those who have:
Anxiety or fear of dentists/dental procedures
Sensitive teeth
A fear of needles
Difficulty feeling numbness after Novocain injections
Aversion to tastes and noises typically associated with dental care
Past traumatic dental experiences
Dental issues that will take a longer-than-usual period of time in the dentist's chair
There are a host of reasons people may have that may make them eligible for sedation while being treated. Please contact our New Jersey conscious sedation dentistry practice for details.
Why Choose Conscious Sedation Dentistry?
Conscious sedation dentistry is useful for people who need dental treatment, but would rather have no memory of the actual treatment process. This option is designed for people who have fear or anxiety that makes it difficult for them to even set foot in a dentist's office. Conscious sedation dentistry essentially puts you in a monitored, sleep-like state for the duration of your procedure. You do not feel pain, and a member of our team is at your side constantly to make sure you are okay.
Since you will be sedated, you will need someone to take you to our office and back home on the day of your procedure. The effects of sedation can last anywhere from two to six hours.
Don't let fear and anxiety keep you from achieving a healthier, brighter smile! Dr. Peter Ciampi can incorporate conscious sedation dentistry with porcelain veneers, teeth whitening, dental implants, and even minor dental procedures to give you effective dental treatment without the stress.
Contact our oral conscious sedation dentist in Monmouth County for more information.
Schedule Your Evaluation
Contact us today to get started!
Call (732) 449-5666