DIAGNOdent®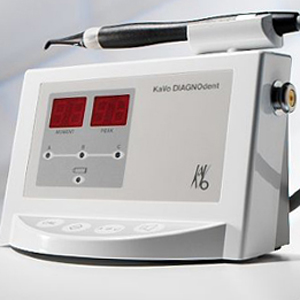 Spring Lake Dental is proud to feature the revolutionary DIAGNOdent® system, the latest, most precise tool for detecting tooth decay in its earliest stages. While traditional means of decay detection have proven to be only 50 to 60 percent effective, DIAGNOdent® has an efficacy rate of over 90 percent. Developed by a team of dentists and scientists in Switzerland, Scotland, and Germany, this groundbreaking technology enables our dental team to identify and treat tooth decay years earlier than traditional methods.
Safe and highly effective, DIAGNOdent® uses a laser beam to detect changes in tooth structure by measuring reflective energy within the teeth. These readings are then compared to readings of healthy teeth, allowing our dentist to pinpoint even minute areas of decay. As a result of early cavity detection, DIAGNOdent® allows patients to preserve their natural teeth while eliminating the need for repeat exposure to x-rays. DIAGNOdent® is also useful for detecting disease beneath dental restorations such as bridges and crowns.
Cavities can hide in hard-to-reach areas of the mouth, which traditional methods of detection simply cannot access. DIAGNOdent®'s groundbreaking technology helps support our mission of preventing dental problems before they occur.