During routine oral exams here at Spring Lake Dental Care, we utilize some of the latest technology to provide patients with a thorough evaluation that is as comfortable and convenient as possible. Below, you will find descriptions of some of the advanced techniques used by our experienced dentist and his dental team to help us get a precise look at the health of your teeth and gums:
Intraoral Camera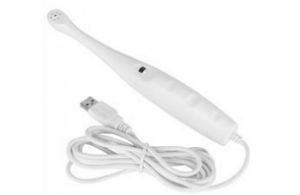 The intraoral camera is a revolutionary diagnostic dental tool that allows our dentists to more easily identify problem areas in the mouth. During the exam with the intraoral camera, the tiny device is placed inside of the patient's mouth and pictures are taken of the teeth. These digital images are then displayed on a computer screen in the room so that you and your dentist can discuss any problems and possible solutions.
Carestream CS 3500 Intraoral Scanner
The Carestream CS 3500 Intraoral Scanner allows us to create 3-Dimensional digital impressions without the need for messy, uncomfortable putties. Using a small, handheld device, our dental team can scan your oral structures and create a highly precise image of your teeth and gums right down to the smallest detail. Then, one of our dentists can view the image with you on a computer screen and talk with you about any problems and explain the best treatment options. This high-definition digital impression can be used to create customized restorations designed to provide the best possible fit and most natural-looking appearance. The scanning process is relatively quick and it involves no needles – it's just a very high-tech way of taking intricate and detailed pictures of your teeth and gums!
DIAGNOdent®
Spring Lake Dental is proud to feature the revolutionary DIAGNOdent® system, the latest, most precise tool for detecting tooth decay in its earliest stages. While traditional means of decay detection have proven to be only 50 to 60 percent effective, DIAGNOdent® has an efficacy rate of over 90 percent. Developed by a team of dentists and scientists in Switzerland, Scotland, and Germany, this groundbreaking technology enables Dr. Ciampi to identify and treat tooth decay years earlier than traditional methods.
Safe and highly effective, DIAGNOdent® uses a laser beam to detect changes in tooth structure by measuring reflective energy within the teeth. These readings are then compared to readings of healthy teeth, allowing Dr. Ciampi to pinpoint even areas of minute decay. As a result of early cavity detection, DIAGNOdent® allows patients to preserve their natural teeth while eliminating the need for repeat exposure to x-rays. DIAGNOdent® is also useful for detecting disease beneath restorations such as dental crowns and bridges.
Cavities can hide in hard to reach areas of the mouth, which traditional methods of detection simply cannot access. DIAGNOdent®'s groundbreaking technology helps support our mission of preventing dental problems before they occur. Ask about DIAGNOdent® technology at your next general dental appointment.
Schedule Your Evaluation
Contact us today to get started!
Call (732) 449-5666