Dental Implants
Do you have missing teeth? If so, you may be wondering whether traditional dentures are the only alternative to replace them with the results that you are hoping for. The good news is, Spring Lake Dental Care offers advanced dental implant procedures that can replace your teeth with results that both look and feel natural, and may even last a lifetime.
The dental implant is one of the most revolutionary restorative dentistry techniques to ever come along. Dental implants have helped patients all over the world improve both the form and function of their teeth while eliminating many of the drawbacks commonly associated with dentures. Our experienced implant dentist, Dr. Peter Ciampi, and our board-certified periodontist, Kenneth Gluck, DMD, can perform full dental implant procedures right here at Spring Lake Dental Care. By offering expert, comprehensive dental implant services in one location, we can often avoid inconveniencing patients by having to refer them to another practice.
With dental implants, we can help you replace a single missing tooth or multiple missing teeth with results that give you new reasons to smile!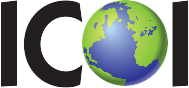 Dr. Ciampi has achieved the prestigious fellowship level in the International Congress of Oral Implantologists.
What Are Dental Implants?
Dental implants are small titanium posts that are designed to function like a natural tooth root. Placed precisely in the area of the missing tooth, a dental implant is anchored to the jawbone. The implant should ultimately fuse to the bone and become a permanent part of the mouth, just like an original tooth. A customized dental crown is then affixed to the implant to provide the finishing touch. With the advanced technologies and skills employed by our dentists, a dental implant can look, feel, and function so naturally that it may be hard to distinguish between the implant itself and your original teeth.

What Are the Benefits of Dental Implants?
Dental implants offer a full range of benefits that serve both aesthetic and functional purposes, including:
They can improve chewing and speaking
They do not slip or move along the gumline
They are custom-designed to provide the most comfortable, natural fit
They require no messy pastes or adhesives
They require no extra maintenance aside from regular brushing and flossing
They can be used to provide more stability and support for a dental bridge or denture. For full sets of dentures, the All-on-Four® implant-supported dentures technique may be an option for some patients.

Who is a Good Candidate?
Candidates for dental implants are typically those who are in reasonably good health and have adequate jawbone density to accommodate the implant. Patients who are currently suffering from gum disease may need to have periodontal treatment before they are eligible for a dental implant. Our dentist will perform a full oral evaluation at your initial consultation and talk with you about the best options for your unique needs.
What Does the Dental Implants Procedure Involve?
Once you are determined to be a candidate for dental implants, our dentist will create an advanced treatment plan designed to precisely place the implant (or implants) in a way that should yield the best possible fit. Dr. Kenneth Gluck, a board-certified periodontist and a member of our team here at Spring Lake Dental Care, has extensive training in the placement of dental implants and will handle this stage of the procedure. The titanium post will be delicately inserted into the gum and anchored to the jawbone. Over the next few months, the post should fuse to the jawbone and act as an artificial tooth root. A temporary crown can be affixed to the top of the post during this period. Once the fusion process is complete, Dr. Ciampi will then take control of the restoration phase of treatment. A custom-crafted permanent crown will be placed on the implant with a durable cement. This crown is specifically designed to provide the most natural-looking appearance, and will be color-matched to surrounding teeth for a virtually seamless blend. After the crown is given a final polish, the dental implant procedure is complete.
The Implant
A titanium implant is placed where the tooth previously was.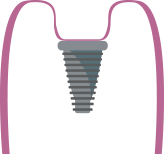 The Abutment
After the site has healed, a post is attached to the implant.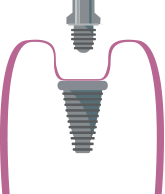 The Crown
The new crown is attached to the post.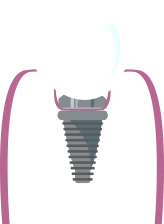 "I would highly recommend anyone who is considering dental implants, to visit Spring Lake Dental Care! I felt very comfortable during the implant procedure and follow up visits. Before getting my implant supported bridge, I was unable to eat the foods that I enjoyed. After the treatment, I was so happy and surprised, I was able to finally eat anything that I wanted! Dr. Ciampi and his staff were compassionate, gentle, professional, and did not rush through the process."
-Bonnie H.
Are Dental Implants Safe?
Dr. Ciampi and Dr. Gluck take extraordinary measures to make dental implant procedures as safe as possible. It is important to note that dental implant placement involves oral surgery, and all types of surgical treatment involve some degree of risk. With that in mind, our doctors are extensively experienced with dental implant procedures and utilize state-of-the-art treatment planning and placement techniques to minimize the potential for dental implant problems such as infection, implant failure, or other complications. With the decades of skills and experience encompassed by our dental team along with adherence to detailed post-operative care instructions that will be provided to you, the risks of dental implant procedures can be greatly reduced.
Do Dental Implants Hurt?
A strong local anesthetic is often all that's necessary to minimize the potential for pain or discomfort during the dental implant procedure. Our practice also offers advanced sedation dentistry techniques to help patients experience a relaxed and virtually painless treatment.
How Long Do Dental Implants Last?
One of the best aspects of dental implants for teeth replacement is the potential longevity of results. As long as you are able to maintain good oral health overall and you continue to visit the dentist for routine dental care, the dental implants should continue serving your needs for decades.
How Much Do Dental Implants Cost?
The cost of dental implants varies from patient to patient, depending on the needs and goals of each individual. Although dental implants may be more expensive than other options, such as traditional dentures, some insurance policies may offer coverage for this procedure. Spring Lake Dental Care also accepts a number of convenient payment methods, and works with a reputable dental financing company that offers low-interest, monthly payment plans for dental care to qualified applicants.
It is important to remember that a dental implant procedure is highly specialized, requiring a great deal of precision and customized treatment in order to provide results that are often virtually indistinguishable from the original teeth. Dr. Peter Ciampi or another member of his experienced dental team here at Spring Lake Dental Care will meet with you for an oral evaluation to determine your candidacy for dental implants. If dental implants are a good option for your needs, our dentist will create a detailed treatment plan that will take all costs into account. These costs will be dependent on a number of factors, including:
How many teeth are being replaced
The complexity involved in the procedure
Materials utilized
Laboratory costs
The average price of dental implants in the area and other factors will also be considered. The total cost of dental implant procedures is ultimately dependent on your unique treatment plan and the variety of factors that need to be taken into account. Dr. Ciampi prides himself on offering very competitive rates for his dental implant procedures, and all costs will be discussed with you in detail before your treatment.
Are There Alternatives to Dental Implants?
If you are not an ideal candidate for full dental implant procedures, or if you are simply looking for other options for teeth replacement, our dentists offer a number of advanced alternatives. A traditional dental bridge has served for many years as an effective way to treat multiple missing teeth located right next to each other, while treatments such as implant dentures and All-on-4® utilize just a few strategically placed dental implants to provide a solid support foundation for a customized denture appliance. Implant dentures and All-on-4® can be ideal alternatives for patients who are missing entire rows of teeth on the upper arch, lower arch, or both. Our dentist can answer your questions about dental implant alternatives and help you find the best option for your needs and goals.
Additional Dental Implants Frequently Asked Questions
Are dental implants covered by insurance?
Some dental insurance policies offer at least partial coverage for dental implants. A member of our team can assist you with determining whether your treatment may be covered by your insurance plan.
Do dental implants look natural?
Dental implants are intricately designed and custom-crafted to provide the most natural appearance possible. The results should resemble original teeth to such a significant degree that it looks like the teeth were never lost in the first place.
How do I clean dental implants?
One of the major benefits of dental implants is the fact that they typically require no additional maintenance other than daily brushing and flossing. The proper at-home oral health care regimen along with regular dental check-ups are often all that is necessary to keep your dental implants clean and functional for many years.
How long does it take to get dental implants?
The dental implant posts are placed first. Then, it will take several months for the implants to adequately fuse to the jawbone. Once this has occurred, the final implant crowns can be affixed to the posts and the procedure is complete. During the period between implant placement and the attachment of the custom restorations, we can place temporary crowns on the implants to enhance comfort and appearance.
Does smoking affect dental implants?
Research has shown a possible link between smoking and implant failure. In addition, smoking can lengthen the healing period after implant placement and heighten the risk of infection. It is strongly recommended that patients quit smoking a minimum of one month before the date of the dental implant procedure and take steps to ensure that the habit is not resumed after the implants are placed.
Schedule Your Consultation
If you are considering dental implants to replace missing teeth, or if you are looking into treatments that can provide an alternative to existing dentures or bridges, please contact our practice today.
Call (732) 449-5666