Digital X-Rays
There are many advantages to the digital X-rays offered at our practice. Through the use of a digital x-ray system, radiation exposure is reduced by 90 percent, which enhances your safety and the safety of our staff significantly. To take a digital X-ray of your teeth, the tiny camera is inserted into your mouth. After the images have been captured, the X-rays are instantly viewable on a computer screen in our office. With this advanced system, you and your dentist can review your x-rays and discuss any problem areas. Digital X-rays help you become more informed about your dental health. If you would like to learn more about digital X-rays, please contact us today!
LOGICON Caries Detector™
The LOGICON Caries Detector, one of the newest technology additions to Spring Lake Dental Care, is a state-of-the-art computer software program used in conjunction with our digital x-ray system to help with the early detection of proximal caries (cavities that form on the surfaces between the teeth). In the past, proximal caries have been difficult to diagnose early as they cannot be detected visually. Now, however, Dr. Ciampi can utilize this exciting new computer-aided diagnostic tool to more easily detect proximal decay and prevent the misdiagnoses of healthy teeth.
How it Works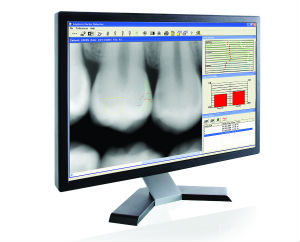 The sophisticated LOGICON Caries Detector software extracts images from a patient's digital x-ray and automatically highlights possible abnormalities, signaling Dr. Ciampi to take a closer look at the tooth and surface involved. Clinical studies have proven that dentists who utilize LOGICON, as opposed to traditional methods, have been able to identify proximal tooth decay earlier and with an accuracy of 92%.
Dr. Peter Ciampi is dedicated to providing the highest level of care and pursues the most cutting-edge dental technology and treatments available. The LOGICON Caries Detector gives our patients peace of mind knowing they are receiving the most sophisticated care available… which gives them one more reason to smile!
Schedule Your Evaluation
Contact us today to get started!
Call (732) 449-5666