VELscope Oral Cancer Screening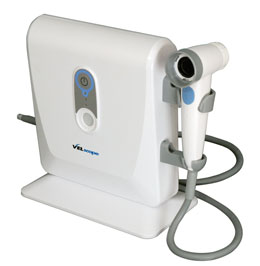 In an effort to prevent oral cancer, our New Jersey dentists offer the VELscope Oral Cancer Screening to help identify signs of cancerous tissue or lesions. Using a targeted light on the inside of your mouth, the VELscope system illuminates suspicious tissue formed by pre-cancerous growths that could cause potential risks in the future. The light causes healthy cells in the mouth to fluoresce in a bright green glow, whereas areas of concern will appear dark when viewed in contrast to the healthy tissue. The VELscope screening is also useful in helping dentists identify viral and bacterial infections, inflammation from trauma, and salivary gland tumors.
Dr. Ciampi suggests patients be screened regularly for oral cancer, as many signs of cancerous growths can be missed in routine oral exam. Our practice recommends undertaking an oral cancer screening at least once a year for patients who do not use tobacco and twice a year for those who smoke or use other tobacco products. Please contact our office to schedule an appointment for your oral cancer screening.
OralCDx®
Oral CDx® Another component of our oral cancer screening process is the OralCDx® oral brush biopsy test. This instrument allows our dentists to easily and painlessly test for oral precancer or cancer. The OralCDx® system combines a gentle brush biopsy of the lesion, combined with advanced computer analysis for diagnosis. The OralCDx® oral brush biopsy test was developed precisely to evaluate oral spots that may appear benign. These types of lesions are routinely observed by dentists, and the OralCDx® offers a quick and simple way to routinely test these spots to ensure a healthy mouth. To learn more about OralCDx® system and our oral cancer screening program, please contact our general and cosmetic dentistry practice in New Jersey today.
Schedule Your Evaluation
Contact us today to get started!
Call (732) 449-5666