Traditional dentures often cause people discomfort due to movement and slippage along the gums. In addition, traditional dentures typically require the inconvenience of messy pastes or adhesives. Implant supported dentures allow our patients at Spring Lake Dental Care to replace their traditional dentures with a stronger and more reliable missing teeth replacement option. The All-on-Four® technique used by Dr. Peter Ciampi and Associates can restore the appearance and function of your teeth with natural-looking results.
What Are All-on-Four® Implant Supported Dentures?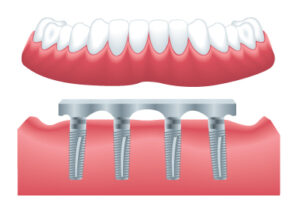 All-on-Four® implant supported dentures can replace both the upper and lower rows of teeth. If a full set of dentures is required, the All-on-Four® technique involves placing a total of four implants – two on the upper gums and two on the lower – to anchor your dentures with greater stability. The implants should fuse to the jawbone over time, and ultimately become a permanent part of your mouth. Each set of dentures is firmly affixed to the implants for reduced movement along the gums and a more natural fit, without the need for dental adhesives.
Learn more about All-on-Four® Implant Dentures.
What Can Implant Supported Dentures Do For My Smile?
The dental implants used to anchor the denture offer superior stability compared to traditional dentures. This added stability also allows you to enjoy foods that are often prohibited or problematic with traditional dentures. Since only four dental implants are required to replace an entire set of teeth, implant supported dentures can be a more cost-effective form of tooth replacement. Implant supported dentures are also ideal for patients interested in dental implants but lack the bone volume necessary for a full set. As an added benefit, All-on-Four® implant supported denture procedures can typically be performed in a single day, giving you a natural-looking, beautiful smile almost instantly.
Schedule Your Evaluation
Contact us today to get started!
Call (732) 449-5666