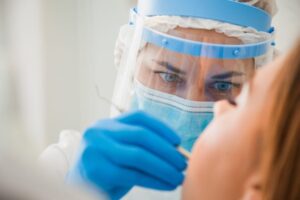 In these extraordinary times of uncertainty, many people are unsure whether it is safe to pursue necessary services such as dental care. This is completely understandable given that the coronavirus has proven to be a highly contagious pathogen; however, a number of essential businesses, including dental offices such as Spring Lake Dental Care, have embraced extraordinary levels of precaution and updated their scheduling and environmental protocols to reduce the risk of transmission. Additionally, a recent study conducted by the Massachusetts Institute of Technology determined dental visits to have one of the best risk-benefit profiles as the COVID-19 pandemic continues. 
The study, published in the Proceedings of the National Academy of Science, looked at 26 different business categories and analyzed them using a variety of metrics for crowdedness and necessity to find out which businesses are of a lower risk and the most essential (risk/benefits) in comparison to others. Dental offices, along with banks and colleges/universities, were among the top categories – i.e. they may present the best risk-benefit profile in terms of their necessity and whether it is worth the risk. You can view the entire study here. 
One of the main guidelines provided by many public health authorities is to avoid crowds and locations where it is difficult to limit contact with many people at one time. Although a visit to the dentist requires one to be in close proximity to the dental professional who is performing the treatment, there are a variety of precautions that can be taken to mitigate risks of coronavirus exposure. As part of our COVID-19 office reopening protocols, Dr. Peter Ciampi has implemented very strict measures to do just that. One of those measures involves adjustments to our scheduling and arrival process to reduce the number of people in the office environment at the same time. Others include extensive use of personal protective equipment (PPE), health screenings of our patients, and the installation of the REME HALO® air purification system. 
If you are hesitant to have a dental check-up or treatment, we encourage you to contact Spring Lake Dental Care and talk with one of our team members about the many precautions we have undertaken to reduce the risk of coronavirus exposure in our office.