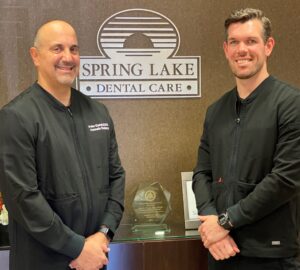 We are very excited to announce the addition of Dr. Andrew Morris to our experienced team of professionals here at Spring Lake Dental Care! Whether you are in need of routine dental health maintenance or a complex cosmetic dentistry procedure, Dr. Morris is an extremely versatile dentist who can do just about everything. He is one of the many smiling faces you may see on your next visit to our practice and we couldn't be happier to have him onboard.
Dr. Morris is a proud Jersey Shore native. He completed his primary dental education and training at NYU College of Dentistry and Monmouth Medical Center Hospital in Long Branch, New Jersey. While Dr. Morris is skilled in comprehensive dental care and is able to perform an extensive range of advanced treatments for all individuals, he is also focused on providing exemplary care for our pediatric patients and those with special needs. Dr. Morris is a member of several prestigious dental organizations and places a high priority on continuing dental education to bring patients the absolute latest treatments and techniques.
A strong proponent of patient education and the most conservative treatment approach possible, Dr. Morris looks forward to meeting our wonderful patients and creating healthier, more beautiful smiles. You can read more about Dr. Morris here to become familiar with his background and credentials. As always, please feel free to reach out to our practice with any questions you may have, or to schedule an appointment.
Welcome aboard, Dr. Morris!