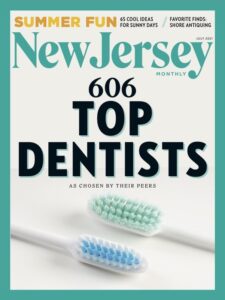 The entire team here at Spring Lake Dental Care is extremely proud to announce that our very own Dr. Peter Ciampi has been recognized as a 2021 Jersey Choice Top Dentist in New Jersey Monthly magazine! This is the 10th time that Dr. Ciampi has achieved this honor, which is given to dentists based on votes from their peers in the dental field. 
The winners of the Jersey Choice Top Dentist distinction are published each year in New Jersey Monthly. An independent survey is sent to thousands of dentists who have been licensed to practice in New Jersey for at least five years. The survey, which includes safeguards to avoid the potential for duplication, asks dentists to vote for the practitioner they believe to be among the best in the state. Nominees can also be submitted by a professional advisory board. Once all of the votes are in, the dentists with the most are then placed on a preliminary list and reviewed for eligibility. Dentists may not nominate themselves, and they cannot pay to be included on the list of Top Dentists. After the votes have been tallied and the nominees have been reviewed, New Jersey Monthly publishes the Jersey Choice Top Dentists list in its print publication and on its website. 
Dr. Ciampi has worked diligently throughout his career to provide patients with exceptional dental care and the best possible experience at our practice, and his treatment philosophy is embraced by all members of our Spring Lake Dental Care team. Our Top Dentist in New Jersey is both humbled and deeply grateful for this latest honor, and he looks forward to continuing to provide beautiful, healthy smiles for years to come!