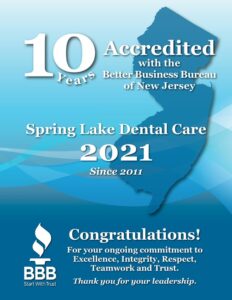 Our Spring Lake Dental Care team was recently honored by the Better Business Bureau for 10 years of accreditation. Keeping up with the BBB's values of excellence, integrity, teamwork, trust, and respect, Spring Lake Dental Care will be receiving a plaque from the BBB commemorating this milestone. Led by our team of dentists and office staff, our practice is proud to have been accredited by this organization for a decade.
"We're here to support you and make sure your BBB accreditation continues to help increase the credibility of your business and build trust with your customers," says a representative from the BBB Board of Directors.
Spring Lake Dental Care has been accredited by the BBB since 2011. An accreditation from this organization sets businesses who hold a certain standard of professionalism and standards apart from other businesses who are not recognized by an official organization who monitors best business practices. Traditionally, the BBB only provides accreditation for businesses that maintain positive customer reviews and ratings.
Our team prides itself on providing high-quality results while maintaining comfortability, safety, and professionalism. Having the BBB accreditation attached to our practice's name adds an additional boost to our credibility that we have built over the years.
If you're interested in what our practice offers, or if you would like to schedule an appointment, please contact us today!