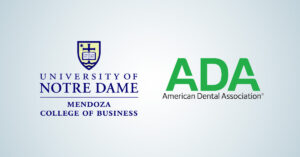 Here at Spring Lake Dental Care, we not only focus on providing you with high-quality, effective dental treatment, but also an experience at our practice that is a positive one on all levels. Obtaining the best possible dental care in an efficient and convenient way requires the concentrated efforts of a skilled team of dental professionals who put patients first and make the smooth running of our practice a top priority. This is why our dentist, Peter Ciampi, DDS, continues to seek out new and innovative ways to make sure Spring Lake Dental Care consistently maintains its mission to provide all individuals with an exemplary visit here at our office. To illustrate this dedication, Dr. Ciampi recently completed the University of Notre Dame's Mendoza College of Business Executive Education Certificate Program in Dental Practice Management.
Components of this comprehensive program, which was offered in conjunction with the American Dental Association, included areas of dental team management, leadership, ethical and legal issues, negotiation and conflict management, and business systems and strategies. The advanced training and education Dr. Ciampi gained from the program can provide our entire team with the tools necessary to help all of our patients feel their time with us has been well-spent. As Dr. Ciampi says: "Ultimately, all of these courses provided insight into various techniques that enable our dental team to provide an optimal patient experience when coming to our practice."
If you would like more information about Spring Lake Dental Care, or if you would like to schedule an appointment, please don't hesitate to contact us today!