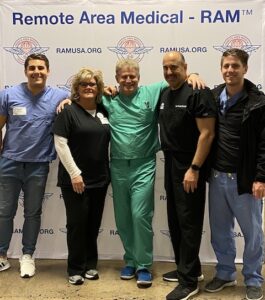 Year after year, our dentist in Spring Lake travels to the Knoxville, Tennessee area to volunteer his services with the Remote Area Medical (RAM) organization. Dr. Ciampi just returned from RAM's three-day free clinic in early February, and he is proud to announce that 1,534 patients were provided with $896,282 in free services during the event held in Chilhowee Park!
RAM is a non-profit organization that brings together dozens of dental, medical, and vision care professionals to provide treatment to individuals who are uninsured and/or cannot afford regular care. The free clinic is also designed to help those who simply may not have convenient geographic access to quality treatment where they live. During the event, volunteers with Remote Area Medical perform a number of basic treatments free of charge for both children and adults. Of the many procedures available, dental treatments include exams and screenings, professional dental cleanings, fillings, and surgical or non-surgical tooth extractions. Each year, RAM helps thousands of people in need by providing basic treatment that can help prevent more severe oral and general health conditions from developing later.
Dr. Ciampi is a regular volunteer with RAM and has worked with the organization on numerous occasions over the years. He believes Remote Area Medical is serving a vital need across the globe, and he is honored to be involved with such a worthy cause!