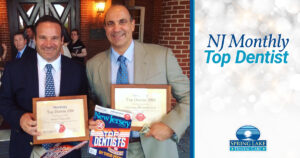 We are very excited to announce that Dr. Peter Ciampi, our experienced dentist and the head of Spring Lake Dental Care, has been named a Top Dentist of 2016 in New Jersey Monthly magazine! This is the fifth time Dr. Ciampi has been recognized with this wonderful honor and he couldn't be more pleased to be singled out.
Each year, New Jersey Monthly asks dentists and professionals in the dental field across the state to vote for whom they believe is worthy of the Top Dentist award. Once they are counted, the dentists with a sufficient amount of votes are placed on a preliminary list. That list is then submitted for review to a professional advisory board composed of 20 dentists and the winners are selected. Nominees for the Top Dentist distinction cannot pay for inclusion on the list. This year, nearly 7,000 dentists in New Jersey were surveyed and 606 nominees – chosen by their peers – were named Top Dentists in New Jersey.
Dr. Ciampi says this award is always very meaningful to him, and ultimately reflects his commitment, as well as the commitment of his entire dental team, to provide every patient who walks through our doors the best in care. We are so proud of Dr. Ciampi and this tremendous recognition!
To learn more about Dr. Ciampi and the treatments available at Spring Lake Dental Care, please contact us today.