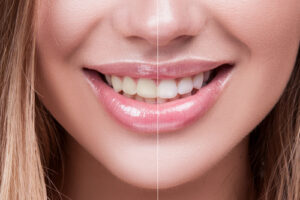 Are you looking for ways to whiten your teeth for a brighter, more refreshing smile? If so, GLO™ professional teeth whitening may be the ideal option. You may have seen over-the-counter GLO™ whitening kits at your local cosmetics store; however, the professional version of this treatment is known to provide results that are up to 70% stronger. Plus, GLO™ can be a better option for individuals with sensitive teeth. There are no dental trays required with GLO™ teeth whitening treatment, and it is a much faster procedure when compared with other techniques – you will likely spend about half the time in the dentist's chair!
GLO™ in-office whitening treatment from our skilled dentists here at Spring Lake Dental Care utilizes a special mouthpiece that combines heat and light, which accelerates the efforts of the whitening gel. This sped-up whitening process allows patients to experience shorter exposure to the teeth whitening process and reduce the potential for sensitivity and discomfort. In addition, the results are almost instantaneous, and can ultimately whiten your teeth by up to five shades. Overall, the GLO™ professional whitening technique offers a more rapid treatment experience than other types of in-office procedures as well as results that can be much better than over-the-counter options.
If you would like more information on the new GLO™ in-office teeth whitening treatment, please contact us today. We look forward to renewing your smile!