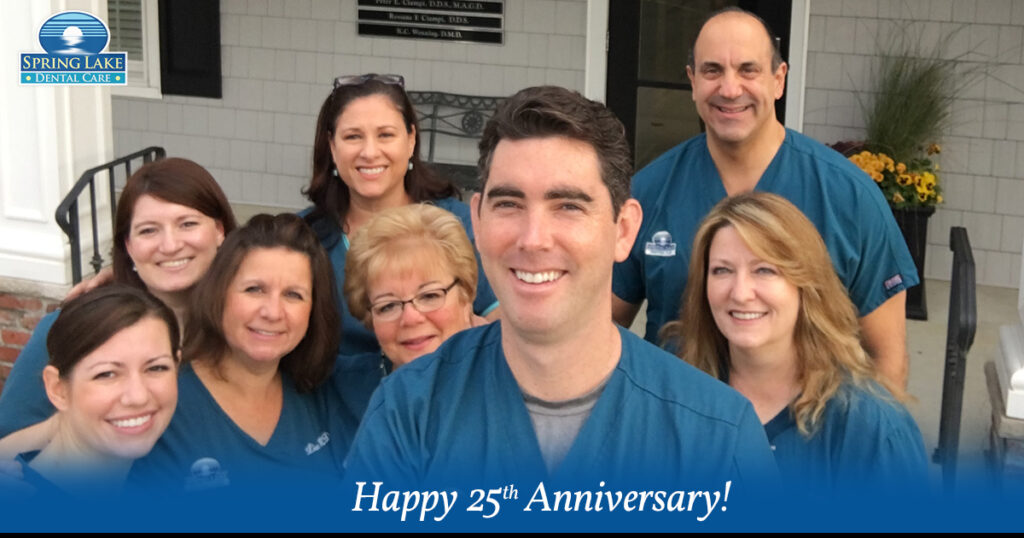 We are very proud to announce the silver anniversary of Spring Lake Dental Care!
Back in 1990, Drs. Peter and Rossana Ciampi decided to create a new practice with a very simple mission in mind: treat patients as if they were part of your own family. They wanted to cultivate relationships with patients that were built on a foundation of trust, providing them with the best possible dental care in a warm, comfortable, and safe environment. Along with a team of experienced and hard-working dentists, hygienists, assistants, and office administrators, Dr. Ciampi has never lost sight of those goals and that same philosophy of care has been beautifully renewing smiles ever since.
As the 25th anniversary of our practice arrived, we decided to take a look at some of the wonderful things that have happened for Spring Lake Dental Care and our patients over the years. Here are just a few of the highlights:
Our office has kept up with the times, adding some of the latest technologies as they become available in order to give our patients the most effective – and comfortable – dental care possible. By constructing a state-of-the-art office and utilizing digital x-rays, intraoral cameras, laser dentistry and laser cavity detection systems, stronger ceramic materials for crowns, and many other advanced techniques, Spring Lake Dental Care continues to focus on providing patients with a calm environment and a pleasant experience.
Dr. Ciampi's commitment to continuing dental education has never wavered. In fact, he recently completed more than 1100 hours of continuing education. With that significant achievement, Dr. Ciampi has obtained Mastership status in the Academy of General Dentistry – the highest honor given by that esteemed organization.
Our team has expanded to include whom we believe to be some of the best dentists and dental professionals you can find – all of whom share Dr. Ciampi's philosophy of care.
Dr. Ciampi continues his work with charitable organizations such as RAM (Remote Area Medical), giving him the opportunity to provide free dental care for those in need in underserved communities.
Our dental team is always focused on providing patients with the best visit possible. We understand that, for many people, dental treatment isn't exactly the highlight of their day! So, our staff is full of friendly, smiling faces who offer personalized care designed for your specific needs and with attention paid to your comfort. There are no one-size-fits-all procedures here at Spring Lake Dental Care.
We are extremely proud to have been a part of the Spring Lake community for 25 years, and we look forward to keeping you smiling for many years to come!
If you are looking to enhance the health and appearance of your teeth and gums, please contact us today.