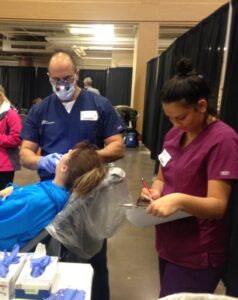 As committed to helping people in need as he is to providing patients with the best dental treatment possible, our own Dr. Peter Ciampi is once again heading to the Knox County, Tennessee area to offer free dental care to underprivileged communities. Working with the Remote Area Medical Volunteer Corps (RAM), Dr. Ciampi will be collaborating with dental professionals from across the U.S. to give patients who cannot afford necessary dental treatment a new reason to smile.
Dr. Ciampi has partnered with RAM many times in the past, doing his part to provide thousands of treatments such as fillings, teeth cleanings, extractions, and other procedures. Many of the patients Dr. Ciampi sees are in pain and have serious dental problems, which makes his work and the work of his colleagues vital for the protection of their oral health.
RAM is a non-profit organization that travels to areas all over the world providing individuals with free medical care, dental care, vision care, and other services. Dr. Ciampi is very proud to be part of the volunteer effort, and is looking forward to utilizing his expertise to help people in desperate need of quality dental treatment.
Dr. Ciampi heads out on Friday, February 6th, and will be back in just a few days. Please contact Spring Lake Dental Care for more information, or to schedule an appointment.