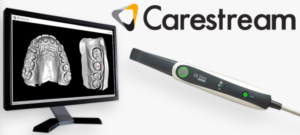 For patients who may need a customized restoration – such as a porcelain veneer, a dental crown, or other option – an impression of the teeth is necessary before its creation to ensure the best possible fit and appearance. In the past, dental impressions have been taken with a physical mold placed on the teeth for several minutes. While effective, this process utilizes a messy putty that can be uncomfortable and inconvenient. Fortunately, new advances in dentistry have made it possible to forgo the traditional impression process for many patients, replacing it with digital impression techniques that do not require a physical mold. Our skilled cosmetic dentist, Dr. Peter Ciampi, and his experienced dental team recently acquired a new technology that is helping to revolutionize dental imaging and impression processes to give patients a more pleasant experience: the Carestream CS 3500 Intraoral Scanner.
The Carestream allows us to take digital impressions and high-definition pictures of your teeth and gums with the use of a simple handheld device. Gently guided along your oral structures, the scanner takes highly precise pictures and forms a 3-D image that you and our dentist can view together on a monitor. This image provides an incredibly detailed look at what's going on with your teeth and gums, allowing you to visualize any problems there may be and better understand why certain treatments may be necessary. The image can also serve as an intricate digital impression to provide a "blueprint" for the design and creation of a custom restoration, eliminating the inconvenience and discomfort associated with a putty impression.
Dr. Ciampi and our team at Spring Lake Dental Care are very excited to bring this new technology to our patients. The Carestream CS 3500 Intraoral Scanner is yet another state-of-the-art tool that our practice can use to make your experience with us the best it can possibly be!