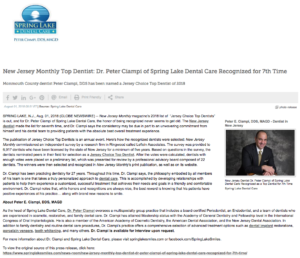 Monmouth County dentist Peter Ciampi, DDS has been named a Jersey Choice Top Dentist of 2018.
Spring Lake, NJ – New Jersey Monthly magazine's 2018 list of "Jersey Choice Top Dentists" is out, and for Dr. Peter Ciampi of Spring Lake Dental Care, the honor of being recognized never seems to get old. The New Jersey dentist made the list for seventh time, and Dr. Ciampi says the consistency may be due in part to an unwavering commitment from himself and his dental team to providing patients with the absolute best overall treatment experience.
The publication of Jersey Choice Top Dentists is an annual event. Here's how the recognized dentists were selected: New Jersey Monthly commissioned an independent survey by a research firm in Ringwood called Leflein Associates. The survey was provided to 6,917 dentists who have been licensed by the state of New Jersey for a minimum of five years. Based on questions in the survey, the dentists nominated peers in their field for selection as a Jersey Choice Top Dentist. After the votes were calculated, dentists with enough votes were placed on a preliminary list, which was presented for review by a professional advisory board composed of 22 dentists. The winners were then selected and recognized in New Jersey Monthly's print publication, as well as on its website.
Dr. Ciampi has been practicing dentistry for 27 years. Throughout this time, Dr. Ciampi says, the philosophy embodied by all members of his team is one that takes a truly personalized approach to dental care. This is accomplished by developing relationships with patients to help them experience a customized, successful treatment that achieves their needs and goals in a friendly and comfortable environment. Dr. Ciampi notes that, while honors and recognitions are always nice, the best reward is knowing that his patients have positive experiences at his practice… along with brand new reasons to smile.
About Peter E. Ciampi, DDS, MAGD
As the head of Spring Lake Dental Care, Dr. Peter Ciampi oversees a multispecialty group practice that includes a board-certified Periodontist, an Endodontist, and a team of dentists who are experienced in cosmetic, restorative, and family dental care. Dr. Ciampi has attained Mastership status with the Academy of General Dentistry and Fellowship level in the International Congress of Oral Implantologists. He is also a member of the American Academy of Cosmetic Dentistry, the American Dental Association, and the New Jersey Dental Association. In addition to family dentistry and routine dental care procedures, Dr. Ciampi's practice offers a comprehensive selection of advanced treatment options such as dental implant restorations, porcelain veneers, teeth whitening, and many others. Dr. Ciampi is available for interview upon request.
For more information about Dr. Ciampi and Spring Lake Dental Care, please visit springlakesmiles.com or facebook.com/SpringLakeSmiles.
Contact
Spring Lake Dental Care
310 Morris Avenue
Spring Lake, NJ 07762
732-449-5666
Rosemont Media
(858) 200-0044
www.rosemontmedia.com