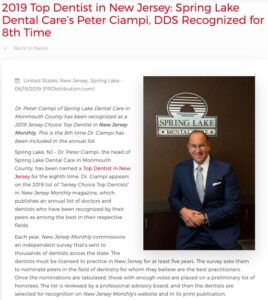 Dr. Peter Ciampi of Spring Lake Dental Care in Monmouth County has been recognized as a 2019 Jersey Choice Top Dentist in New Jersey Monthly. This is the 8th time Dr. Ciampi has been included in the annual list.
Spring Lake, NJ – Dr. Peter Ciampi, the head of Spring Lake Dental Care in Monmouth County, has been named a Top Dentist in New Jersey for the eighth time. Dr. Ciampi appears on the 2019 list of "Jersey Choice Top Dentists" in New Jersey Monthly magazine, which publishes an annual list of doctors and dentists who have been recognized by their peers as among the best in their respective fields.
Each year, New Jersey Monthly commissions an independent survey that's sent to thousands of dentists across the state. The dentists must be licensed to practice in New Jersey for at least five years. The survey asks them to nominate peers in the field of dentistry for whom they believe are the best practitioners. Once the nominations are tabulated, those with enough votes are placed on a preliminary list of honorees. The list is reviewed by a professional advisory board, and then the dentists are selected for recognition on New Jersey Monthly's website and in its print publication.
Dr. Ciampi has nearly 30 years of experience as a practicing dentist in New Jersey, and also serves as a clinical assistant professor at the University of Pennsylvania School of Dental Medicine. He says this latest distinction from his peers is reflective of the genuinely personalized approach to care embodied by himself and his entire team at Spring Lake Dental Care. Dr. Ciampi notes that providing patients with not just a customized, effective treatment but a safe and positive experience overall is always his highest goal, ultimately giving patients reasons to actually look forward to receiving the dental care they need.
About Peter E. Ciampi, DDS, MAGD
Dr. Peter Ciampi is a member of the American Academy of Cosmetic Dentistry and has attained Mastership status with the Academy of General Dentistry. He is also a member of the New Jersey Dental Association and the American Dental Association, and has achieved the Fellowship level in the International Congress of Oral Implantologists. Dr. Ciampi serves as the head of Spring Lake Dental Care, a practice which offers a comprehensive range of dental treatments from a team that includes general and cosmetic dentists, a board-certified periodontist, and an endodontist, allowing the practice to provide patients with a full array of services at one convenient location. Treatment options at the practice include porcelain veneers, dental implant restorations, teeth whitening, routine dental care options, and many other procedures. Dr. Ciampi is available for interview upon request.
For more information about Dr. Ciampi and Spring Lake Dental Care, please visit springlakesmiles.com or facebook.com/SpringLakeSmiles.
Contact:
Spring Lake Dental Care
310 Morris Avenue
Spring Lake, NJ 07762
732-449-5666
Rosemont Media
(858) 200-0044
www.rosemontmedia.com