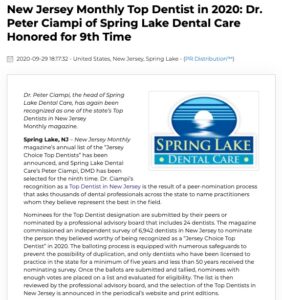 Dr. Peter Ciampi, the head of Spring Lake Dental Care, has again been recognized as one of the state's Top Dentists in New Jersey Monthly magazine.
Spring Lake, NJ – New Jersey Monthly magazine's annual list of the "Jersey Choice Top Dentists" has been announced, and Spring Lake Dental Care's Peter Ciampi, DMD has been selected for the ninth time. Dr. Ciampi's recognition as a Top Dentist in New Jersey is the result of a peer-nomination process that asks thousands of dental professionals across the state to name practitioners whom they believe represent the best in the field.
Nominees for the Top Dentist designation are submitted by their peers or nominated by a professional advisory board that includes 24 dentists. The magazine commissioned an independent survey of 6,942 dentists in New Jersey to nominate the person they believed worthy of being recognized as a "Jersey Choice Top Dentist" in 2020. The balloting process is equipped with numerous safeguards to prevent the possibility of duplication, and only dentists who have been licensed to practice in the state for a minimum of five years and less than 50 years received the nominating survey. Once the ballots are submitted and tallied, nominees with enough votes are placed on a list and evaluated for eligibility. The list is then reviewed by the professional advisory board, and the selection of the Top Dentists in New Jersey is announced in the periodical's website and print editions.
2020 marks Dr. Ciampi's 30th year as a practicing dentist in the state, and he says that makes this latest honor particularly meaningful to him. From the beginning, Dr. Ciampi says he has centered his practice's philosophy on providing safe, state-of-the-art, and genuinely personalized dental care to all patients, whether they are coming in for an advanced cosmetic dentistry procedure or just a routine preventive treatment. His goal is to provide a comfortable, home-like environment and to set patients at ease during dental treatment while improving the health and appearance of their smiles. "I have much gratitude for the fine, hard-working team members and excellent patients that have been part of my practice over the past 30 years. I look forward to continuing the relationships and connections to be made with my current and future patients!"
About Peter E. Ciampi, DDS, MAGD
Dr. Peter Ciampi is the head of Spring Lake Dental Care in Monmouth County, New Jersey. Dr. Ciampi has earned Mastership status with the Academy of General Dentistry and is a member of the American Academy of Cosmetic Dentistry, the American Dental Association, and the New Jersey Dental Association. He has also achieved the Fellowship level in the International Congress of Oral Implantologists. Dr. Ciampi oversees a comprehensive dental program at his practice that offers patients a wide array of cosmetic, restorative, and preventive dentistry options. In addition to cosmetic and general dentists, Dr. Ciampi's dental team includes an onsite endodontist and a board-certified periodontist, allowing Spring Lake Dental Care to provide a full array of advanced dental procedures in one location. Dr. Ciampi is available for interview upon request.
For more information about Dr. Ciampi and Spring Lake Dental Care, please visit springlakesmiles.com or facebook.com/SpringLakeSmiles.
Contact:
Spring Lake Dental Care
310 Morris Avenue
Spring Lake, NJ 07762
732-449-5666
Rosemont Media
(858) 200-0044
www.rosemontmedia.com