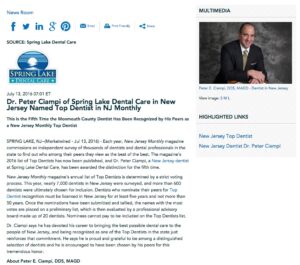 This is the fifth time the Monmouth County dentist has been recognized by his peers as a New Jersey Monthly Top Dentist.
Spring Lake, NJ – Each year, New Jersey Monthly magazine commissions an independent survey of thousands of dentists and dental professionals in the state to find out who among their peers they view as the best of the best. The magazine's 2016 list of Top Dentists has now been published, and Dr. Peter Ciampi, a New Jersey dentist at Spring Lake Dental Care, has been awarded the distinction for the fifth time.
New Jersey Monthly magazine's annual list of Top Dentists is determined by a strict voting process. This year, nearly 7,000 dentists in New Jersey were surveyed, and more than 600 dentists were ultimately chosen for inclusion. Dentists who nominate their peers for Top Dentist recognition must be licensed in New Jersey for at least five years and not more than 50 years. Once the nominations have been submitted and tallied, the names with the most votes are placed on a preliminary list, which is then evaluated by a professional advisory board made up of 20 dentists. Nominees cannot pay to be included on the Top Dentists list.
Dr. Ciampi says he has devoted his career to bringing the best possible dental care to the people of New Jersey, and being recognized as one of the Top Dentists in the state just reinforces that commitment. He says he is proud and grateful to be among a distinguished selection of dentists and he is encouraged to have been chosen by his peers for this tremendous honor.
About Peter E. Ciampi, DDS, MAGD
Dr. Peter Ciampi is the head of Spring Lake Dental Care, a multispecialty group practice with a board certified Endodontist and Periodontist on staff to offer patients the opportunity and convenience of having all phases of dentistry performed by specialists in a single location. Dr. Ciampi is a member of the American Dental Association, the American Academy of Cosmetic Dentistry, the New Jersey Dental Association, and many other dental organizations. He has attained Fellowship level in the International Congress of Oral Implantologists and Mastership status with the Academy of General Dentistry, the highest honor that can be achieved from that organization. After attending the University of Maryland School of Dentistry and finishing his general practice residency at the Naval Hospital in Bethesda, Dr. Ciampi went on to serve in the United States Navy Dental Corps. He later obtained post-graduate education and training at the University of California-Los Angeles Center for Esthetic Dentistry. Dr. Ciampi has completed more than 1100 hours of continuing dental education. His practice offers a full range of cosmetic, general, and restorative dental treatments, including teeth whitening, porcelain veneers, dental implant restorations, and many other procedures. He is available for interview upon request.
For more information about Dr. Ciampi and Spring Lake Dental Care, please visit springlakesmiles.com or facebook.com/SpringLakeSmiles.
Contact:
Spring Lake Dental Care
310 Morris Avenue
Spring Lake, NJ 07762
732-449-5666
Rosemont Media
(858) 200-0044
www.rosemontmedia.com