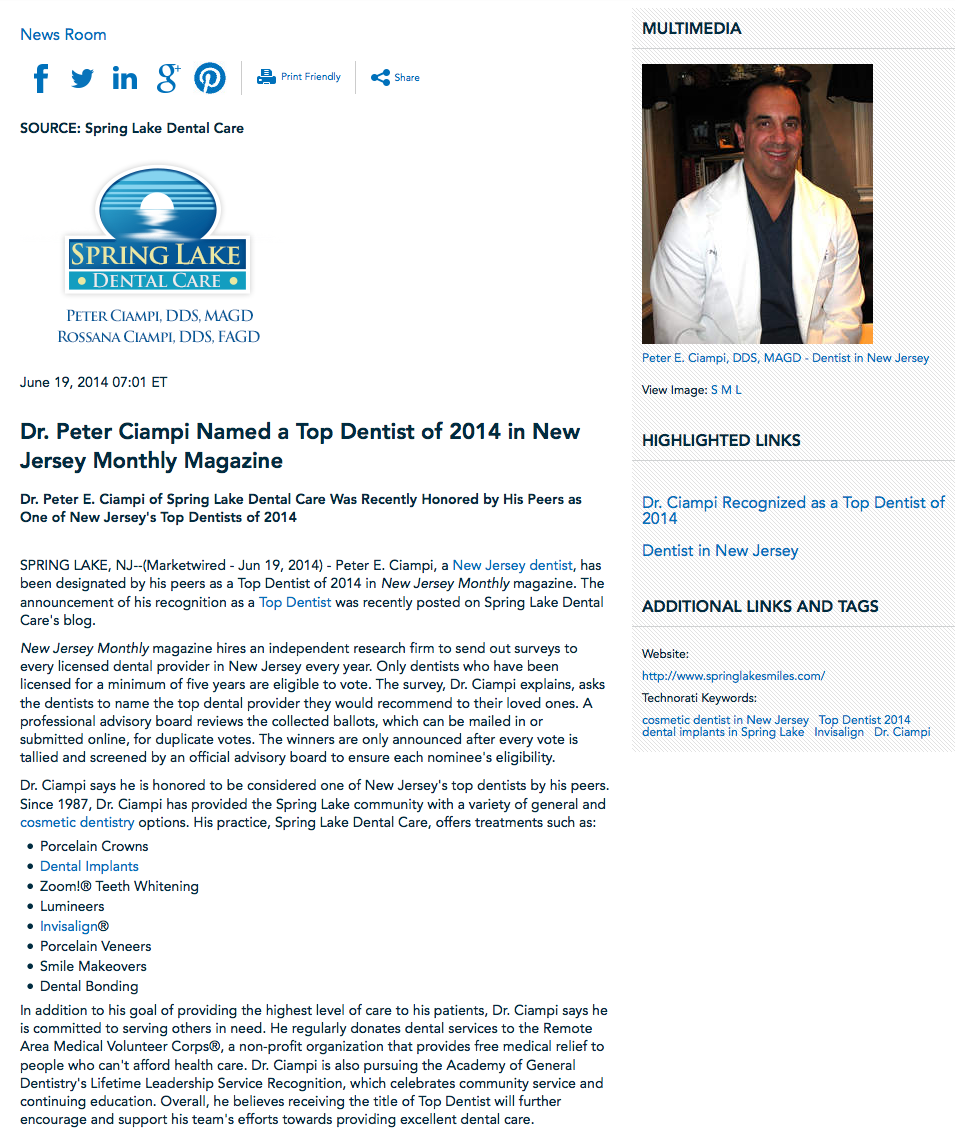 Dr. Peter E. Ciampi of Spring Lake Dental Care was recently honored by his peers as one of New Jersey's Top Dentists of 2014.
Spring Lake, NJ – Peter E. Ciampi, a New Jersey dentist, has been designated by his peers as a Top Dentist of 2014 in New Jersey Monthly magazine. The announcement of his recognition as a Top Dentist was recently posted on Spring Lake Dental Care's blog.
New Jersey Monthly magazine hires an independent research firm to send out surveys to every licensed dental provider in New Jersey every year. Only dentists who have been licensed for a minimum of five years are eligible to vote. The survey, Dr. Ciampi explains, asks the dentists to name the top dental provider they would recommend to their loved ones. A professional advisory board reviews the collected ballots, which can be mailed in or submitted online, for duplicate votes. The winners are only announced after every vote is tallied and screened by an official advisory board to ensure each nominee's eligibility.
Dr. Ciampi says he is honored to be considered one of New Jersey's top dentists by his peers. Since 1987, Dr. Ciampi has provided the Spring Lake community with a variety of general and cosmetic dentistry options. His practice, Spring Lake Dental Care, offers treatments such as:
Porcelain Crowns
Zoom!® Teeth Whitening
Lumineers
Porcelain Veneers
Smile Makeovers
Dental Bonding
In addition to his goal of providing the highest level of care to his patients, Dr. Ciampi says he is committed to serving others in need. He regularly donates dental services to the Remote Area Medical Volunteer Corps®, a non-profit organization that provides free medical relief to people who can't afford health care. Dr. Ciampi is also pursuing the Academy of General Dentistry's Lifetime Leadership Service Recognition, which celebrates community service and continuing education. Overall, he believes receiving the title of Top Dentist will further encourage and support his team's efforts towards providing excellent dental care.
About Peter E. Ciampi, DDS, MAGD
Dr. Peter E. Ciampi received his dental degree from the University of Maryland School of Dentistry and pursued cosmetic dentistry training from the University of California, Los Angeles Center for Esthetic Dentistry. He was appointed "Peer Review Mediator" by the New Jersey Dental Association and reached mastership status at the Academy of General Dentistry after completing over 1,100 hours of continued education. Dr. Ciampi is a member of the American Academy of Cosmetic Dentistry and has served at the University of Pennsylvania School of Dental Medicine as a Clinical Assistant Professor in the Department of Restorative and Preventative Sciences for over 15 years. His team, including Dr. Rossana Ciampi and Dr. KC Wenning, offer a full range of general and cosmetic dental treatments. He is available for interview upon request.
For more information about Dr. Ciampi and Spring Lake Dental Care, please visit springlakesmiles.com or facebook.com/SpringLakeSmiles.
Contact:
Spring Lake Dental Care
310 Morris Avenue
Spring Lake, NJ 07762
732-449-5666
Rosemont Media
[email protected]
(858) 200-0044
www.rosemontmedia.com