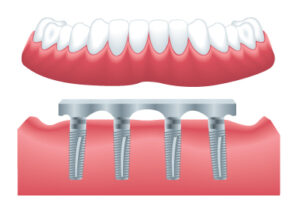 While traditional dentures have been effective teeth replacement options for many years, the fact is that many people have very serious problems with them. Ill-fitting dentures have a tendency to slip along the gums, necessitating messy pastes and adhesives to stabilize them. They can also diminish your ability to chew and speak properly, and cause self-consciousness about the appearance of your smile. At Spring Lake Dental Care, our experienced dentists offer implant anchored dentures to resolve many of these common issues and renew both the form and function of your teeth.
Also referred to as implant supported dentures, implant anchored dentures are designed to significantly reduce movement and slippage while eliminating the need for gels and adhesives. They are easier to maintain and they can diminish the potential for surrounding bone loss. Implant anchored dentures can essentially replace missing teeth with results that look and feel incredibly natural. These treatments are often ideal for patients who are looking for better alternatives than traditional dentures or bridges, and those who are experiencing problems with their dentures that are so severe their lifestyle is being affected.
With implant anchored dentures, you may not ever have to worry about chewing or speaking issues caused by loose-fitting dentures again!
To learn more about implant anchored dentures, or to schedule a consultation with one of our dentists, please contact Spring Lake Dental Care.