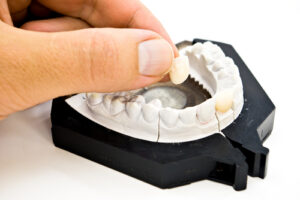 Dental implants are one of the most advanced restorative dentistry procedures available, and have helped people all over the world replace missing teeth with results that look and feel natural. The cost of dental implants varies from patient to patient, depending on the needs and goals of each individual. Although dental implants may be more expensive than other options, such as traditional dentures, some insurance policies may offer coverage for this procedure. Spring Lake Dental Care also accepts a number of convenient payment methods, and works with reputable healthcare finance companies that offer low-interest, monthly payment plans for dental care to qualified applicants. It is important to remember that a dental implant procedure is highly specialized, requiring a great deal of precision and customized treatment in order to provide results that are often virtually indistinguishable from the original teeth.
Dr. Peter Ciampi or another member of his experienced dental team here at Spring Lake Dental Care will meet with you for an oral evaluation to determine your candidacy for dental implants. If dental implants are a good option for your needs, our dentist will create a detailed treatment plan that will take all costs into account. These costs will be dependent on a number of factors, including:
How many teeth are being replaced
The complexity involved in the procedure
Materials utilized
Laboratory costs
The average price of dental implants in the area and other factors will also be considered. Dr. Ciampi prides himself on offering very competitive rates for his dental implant procedures, and all costs will be discussed with you in detail before your treatment.
If you would like to speak to a member of our team regarding dental implants, pricing for the procedure, or any other concerns you may have, please contact Spring Lake Dental Care today.