What Is All-on-4®?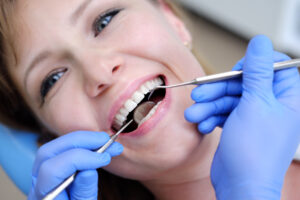 All-on-4® is an implant supported denture system designed to replace an entire row of missing teeth. Using four strategically placed dental implants to secure each new row of teeth in place, these state-of-the-art dentures offer exceptional stability, comfort, and reliability. The All-on-4® method allows patients to avoid many of the inconveniences associated with traditional dentures and enrich their overall quality of life.
What Are the Benefits of All-on-4® Dental Implants?
Although traditional dentures may serve as an effective form of tooth replacement, some individuals experience several downsides to that solution. Slippage, messy adhesives, food restrictions, and gum irritation can become frustrating and embarrassing, and ultimately prevent patients from focusing on the present moment. All-on-4® dental implants are designed to provide a number of unique advantages that can address those concerns, including:
A secure, precise, comfortable fit along the gums
The ability to eat and smile without worry
No adhesives or pastes
Easy maintenance
Natural-looking results
The All-on-4® method may also be ideal for patients who are not candidates for a full set of dental implants. Because this denture system uses just four dental implants per row to secure the restoration in place, patients do not require the same level of bone density as they would for an entire set of single implant restorations. In addition, patients rarely need to undergo a bone graft prior to receiving All-on-4® dental implants. All-on-4® can also be a more cost-effective method of replacing teeth compared to an entire set of dental implants while still retaining many of the same advantages. This procedure has a very high satisfaction rate and has helped many individuals achieve their goals with beautiful results.
What Should I Expect During the All-on-4® Procedure?
All-on-4® dental implants are designed to replace an entire row of teeth. Oftentimes, candidates for All-on-4® will not have any teeth on the row receiving the restoration, though any remaining teeth can be extracted before the procedure begins. Four titanium posts are then surgically implanted in the gums where they should fuse to the bone underneath, allowing the innovative denture appliance to be fastened and secured in place. Each full-arch restoration is custom-designed for a comfortable fit and natural-looking results, restoring lost function with an aesthetically pleasing look.
Upper Arch Replacement: used to replace the upper row of teeth and secured with four dental implants.
Lower Arch Replacement: used to replace the bottom row of teeth and secured with four dental implants.
Full Mouth Restoration: used to replace both the upper and bottom rows of teeth and secured with a total of eight dental implants.
The All-on-4® method is occasionally customized further when needed, using six dental implants per row rather than four. A "one-size-fits-all" mentality is never used at Spring Lake Dental Care, and our cosmetic dentists will determine whether a patient might better benefit from this All-on-6® method after a thorough oral examination. In some cases, patients may also opt to wear temporary fixed dentures immediately after their implant surgery while the dental implants fully heal. Once the healing process is complete, the permanent restorations can be attached.
How Much Do All-on-4® Dental Implants Cost?
This restorative dentistry procedure will vary from patient to patient. Each implant-secured denture is customized, and no two restorations are the same. Variables that impact the cost of All-on-4® dental implants may include the location and number of implants used during the procedure; whether a patient chooses upper arch replacement, lower arch replacement, or full mouth restoration; laboratory costs to manufacture the implant-secured denture; the experience and skill of the dentist; and geographic location of the dentist's office. Patients who might benefit from a flexible payment method with monthly installments may qualify for one of our dental financing options.
Contact Us
The All-on-4® procedure is one of the most effective and natural-looking teeth replacement techniques available. To learn more about All-on-4®, or to schedule a consultation with our dentist, please contact our office today.