Photos can only tell half the story of our patients' dramatic smile transformations. Read about our patients' experiences and results, and find out how our cosmetic dentistry practice in Monmouth County has improved their smiles and enhanced their self-confidence: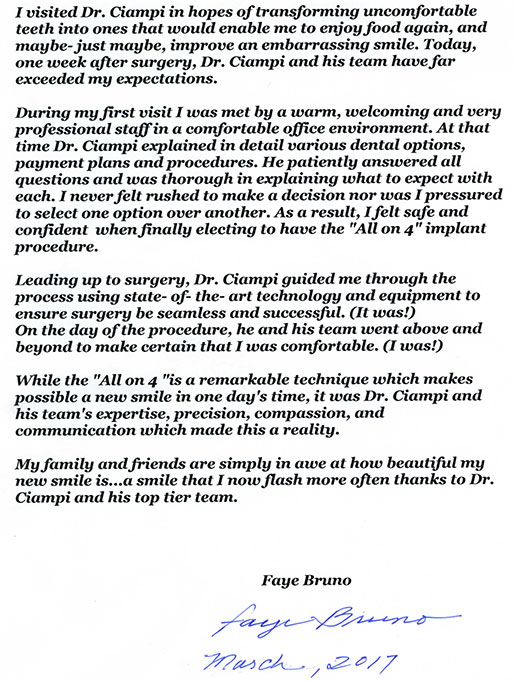 -Faye B.
"The office environment has always been lovely… very welcoming.."
"After a few short visits I had a new smile that I was proud of and would highly recommend Dr. Ciampi to anyone."
"When I first came to Dr. Ciampi we sat down and developed plan for managing the long term care of my teeth. It involved several options including cosmetic procedures that have made my teeth a lot more stable and a lot more attractive."
"Incredibly friendly, warm, inviting, and it's almost like it's their home that you're coming into."
"From the outset the staff was very helpful explaining everything to me, what would happen, following up with visits when I needed it, and I felt very confident my best interest being taken into consideration."
"Once I came in and met everyone at the office, I knew this was the place for me. Everyone at the office smiles when I walk in the door; they all know who I am, they know my children and my husband. They're all just wonderful people!"
"…the whole staff just takes care of you and really makes you feel at home."
"The staff is always very friendly, it's a warm environment, and I'm not nervous when I come here. I would highly recommend the office to anyone!"
"As a patient of Dr. Ciampi's for over 16 years, I was accustomed to the excellent dental care he and his staff provide. Dr. Peter explained to me how I could perfect my smile with cosmetic dentistry and created a photo to show me how I would look. He recommended veneers and I was excited to begin the process. Everything was done in a few visits and I am extremely pleased with the results. I now have the smile I've always wanted thanks to the skill, artistry and expertise of Dr. Ciampi."
"I would highly recommend anyone who is considering dental implants, to visit Spring Lake Dental Care! I felt very comfortable during the implant procedure and follow up visits. Before getting my implant supported bridge, I was unable to eat the foods that I enjoyed. After the treatment, I was so happy and surprised, I was able to finally eat anything that I wanted! Dr. Ciampi and his staff were compassionate, gentle, professional, and did not rush through the process."
-Bonnie H.
"Thank you for giving me a beautiful smile again. It was the best decision I have ever made. I have gained so much more confidence in talking with my friends and family.
I am very grateful to you and mention your name over and over again!"
-Carolyn I.
Brielle, NJ
"I've tried all types of tooth whitening systems in the past; over the counter products, home trays, and even Britesmile. Nothing could help my grey tetracycline stained teeth. Then Dr. Peter Ciampi recommended and performed this new Deep Bleaching technique of tooth whitening. I now have what I've wanted all along, sparkling white teeth!"
-Greg M.
Spring Lake Heights, NJ
"My whole life I hesitated to smile because of unattractive teeth. Thanks to the expertise of Dr. Ciampi and his staff, anyone who passes my way will be the recipient of a huge grin!"
-Arlene A.
Brick, N.J
"Coming from a guy who has always considered a trip to the dentist his worst nightmare, the realization of the need for major dental restoration just blew me away.
However, now that the process is complete and the results are outstanding, I can reflect back on the process.
Dr. Ciampi and his staff prepared and communicated a step-by-step plan that went like clockwork and all of the sessions were performed with the highest degree of professionalism; personal attention; and compassionate care. Thank you Dr. Ciampi and your wonderful support team!"
-John L.
Brielle, NJ
"I always wanted my smile improved, but I always put it off. Now that Dr. Ciampi has given me a GREAT smile, I wish I had done it sooner! He is painless and professional. Dr. Ciampi is awesome and so is his staff!"
-Lou G.
Colts Neck, NJ
"I wanted to feel confident on my big day…and Dr. Ciampi made that possible! My cheeks hurt from smiling all day long on my wedding day! Today, I still can't stop smiling! He is simply the BEST!"
-Kelly B.
Middletown, NJ
Schedule Your Evaluation
Contact us today to get started!
Call (732) 449-5666