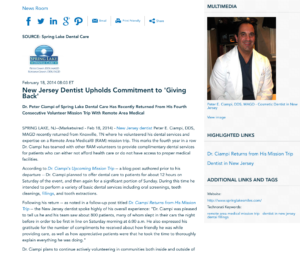 Dr. Peter Ciampi of Spring Lake Dental Care has recently returned from his fourth consecutive volunteer mission trip with Remote Area Medical®.
Spring Lake, NJ — New Jersey dentist Peter E. Ciampi, DDS, MAGD recently returned from Knoxville, TN where he volunteered his dental services and expertise on a Remote Area Medical® (RAM) mission trip. This marks the fourth year in a row Dr. Ciampi has teamed with other RAM volunteers to provide complimentary dental services for patients who can either not afford health care or do not have access to proper medical facilities.
According to Dr. Ciampi's Upcoming Mission Trip – a blog post authored prior to his departure – Dr. Ciampi planned to offer dental care to patients for about 12 hours on Saturday of the event, and then again for a significant portion of Sunday. During this time he intended to perform a variety of basic dental services including oral screenings, teeth cleanings, fillings, and tooth extractions.
Following his return – as noted in a follow-up post titled Dr. Ciampi Returns from His Mission Trip – the New Jersey dentist spoke highly of his overall experience: "Dr. Ciampi was pleased to tell us he and his team saw about 800 patients, many of whom slept in their cars the night before in order to be first in line on Saturday morning at 6:00 a.m. He also expressed his gratitude for the number of compliments he received about how friendly he was while providing care, as well as how appreciative patients were that he took the time to thoroughly explain everything he was doing."
Dr. Ciampi plans to continue actively volunteering in communities both inside and outside of New Jersey.
About Peter E. Ciampi, DDS, MAGD
Dr. Ciampi graduated from Franklin & Marshall College before earning his dental degree from the University of Maryland School of Dentistry. In addition to volunteering with RAM, he has also teamed with the Paradisus Palma Real Department of Sustainable Development to donate educational supplies to schools in the Dominican Republic. He is available for interview upon request.
For more information about Dr. Ciampi and Spring Lake Dental Care, please visit springlakesmiles.com or facebook.com/SpringLakeSmiles.
Contact:
Spring Lake Dental Care
310 Morris Avenue
Spring Lake, NJ 07762
(732) 449-5666
Rosemont Media
[email protected]
(858) 200-0044
www.rosemontmedia.com